ABLAZE Ancillary Workshops
EXTRA! EXTRA!
After a full day of learning on the torch, what's better than more learning off the torch?
The ABLAZE Ancillary Workshops happen on Thursday, Friday and Saturday evening, 7:30-9:00 pm.
In each 90 minute session you will watch guest experts demo new skills and techniques and answer your questions. (These workshops are not hands-on.)
Ancillary workshops are included in your ABLAZE Full Registration or ABLAZE Ancillary Workshops Registration.
After you register, contact us at info@terminalcityglass.com or 604-253-2667 to select your Ancillary Workshops.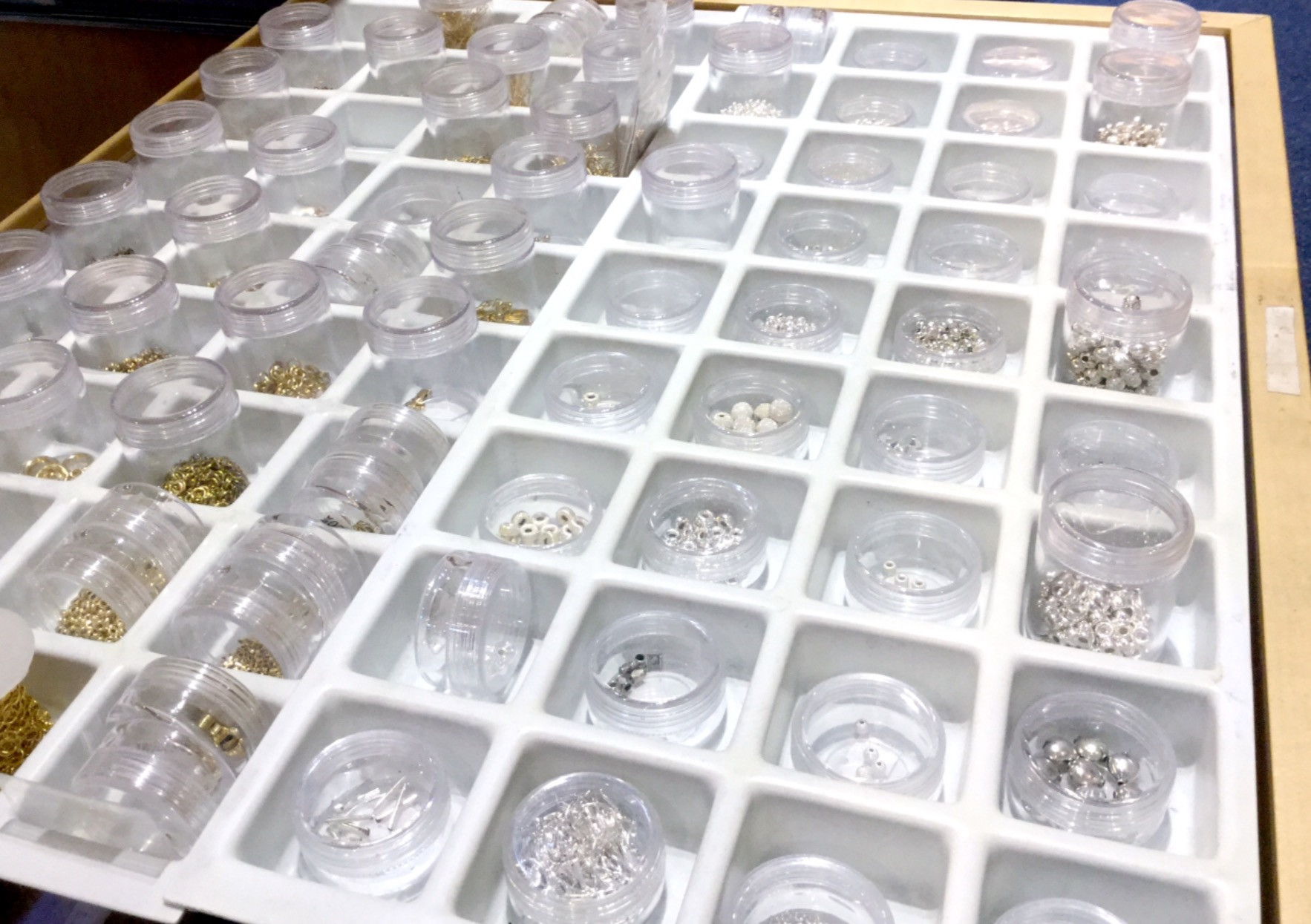 THURSDAY Sept. 14, 7:30-9:00 pm
Beginner Jewellery Making with Natasha Bernier and Linnea Stamp
Learn beginner jewellery making techniques, including earring components, stringing materials, clasps and wire wrapping. Natasha and Linnea will introduce you to the essential tools, materials and findings.

Natasha Bernier and Linnea Stamp are co-owners of Beadworks on Granville Island. Between them they have over 50 years of beadmaking experience.
Note: This workshop takes place at Beadworks on Granville Island. Transportation will be provided. Please allow for travel time when making dinner plans for Thursday.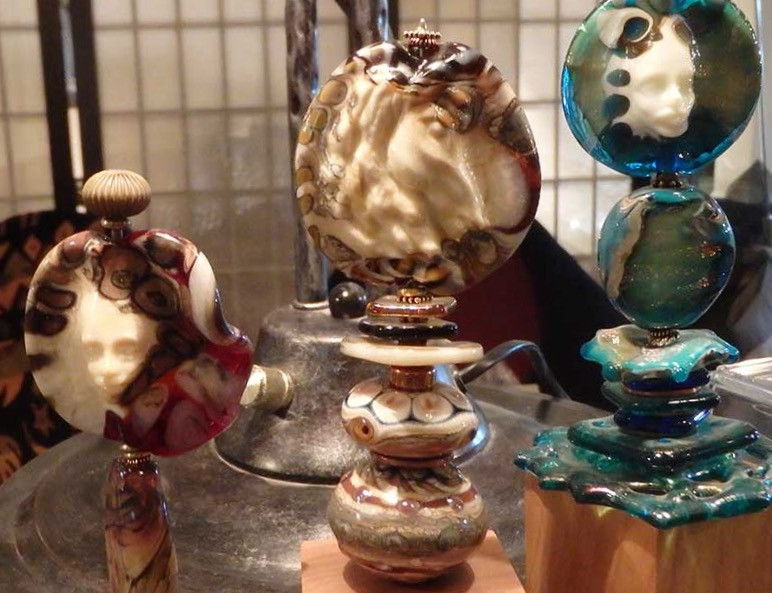 THURSDAY Sept. 14, 7:30-9:00 pm
Mold Making with Melanie Rowe
Melanie will demonstrate creating a bronze clay mold which can be used for years to create 3D and textured beads. She will explain the technical issues involved in making molds from bronze clay and explain the firing schedule.
Melanie Rowe has been an internationally-known glass artist for almost 40 years. Her face beads are created using molds she sculpts using different materials. She is a member of Terminal City Glass Co-op.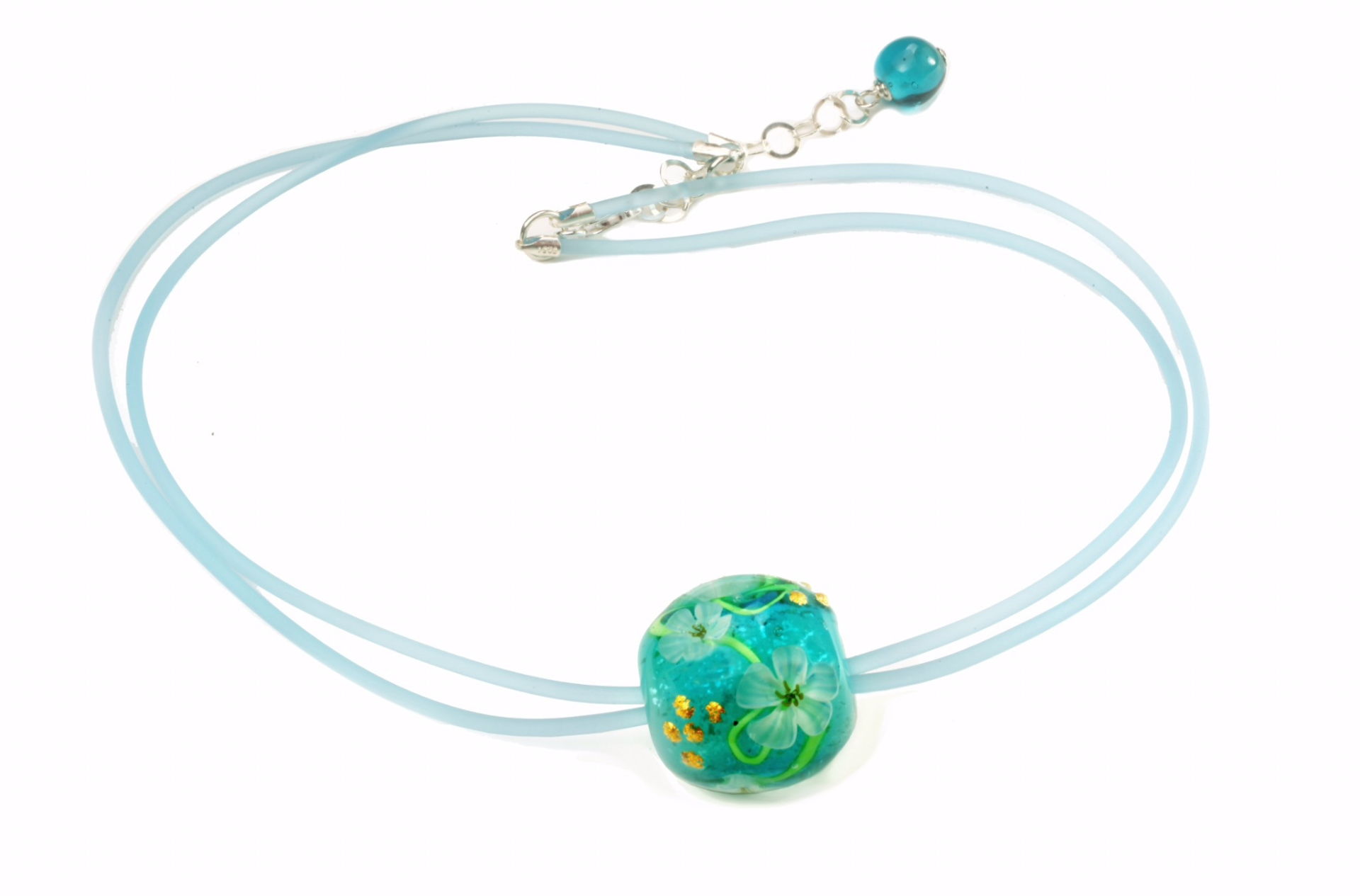 THURSDAY Sept. 14, 7:30-9:00 pm
Take Better Photos of Your Glass with Denise Relke
Denise will show you tips and tricks that will help you take better photos using a bead, a jewellery piece, and a larger glass item.
Denise Relke is a graduate of Langara's Professional Photography Program. She spent 17 years working as a photojournalist at the Vancouver Sun. She is a member of Terminal City Glass Co-op, where she creates in the hot shop and flame studio.
(Necklace by Minori Takagi. Photo by Denise Relke.)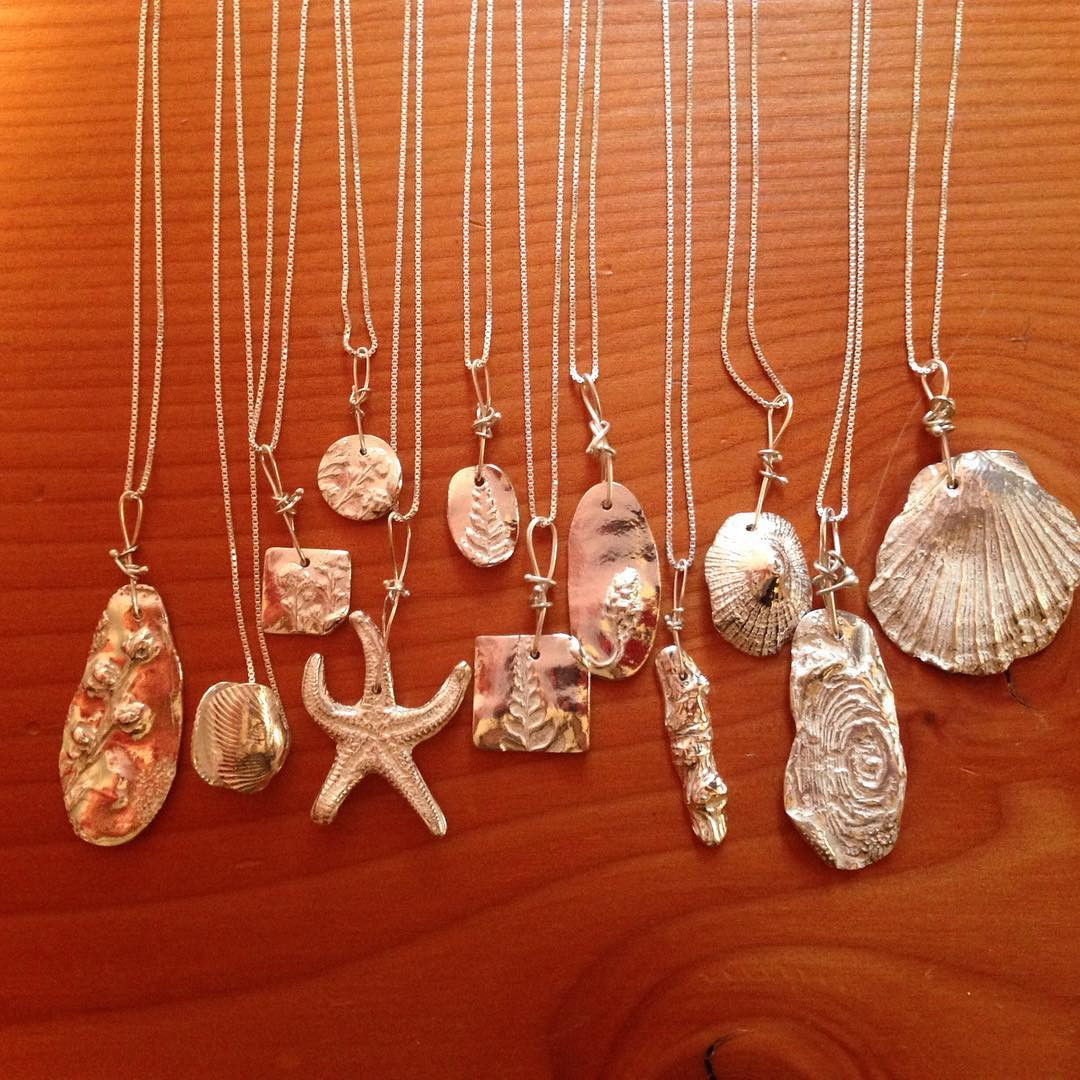 FRIDAY Sept. 15, 7:30-9:00 pm
Precious Metal Clay with Liz McDonald
Watch and learn as Liz demonstrates how to make silver pendants and findings using silicone molds and precious metal clay.
Liz McDonald creates her nature-inspired silver jewellery using  PMC and teaches classes in her Burnaby studio.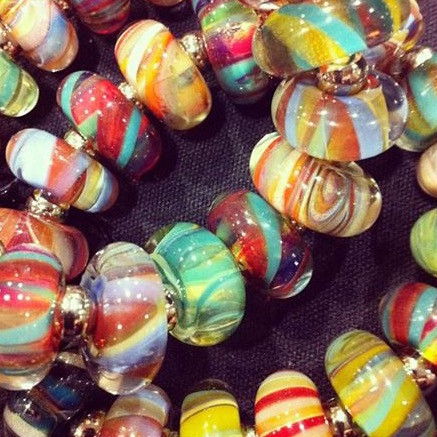 FRIDAY Sept. 15, 7:30-9:00 pm
Borocurious? with Maria Keating
Explore the borosilicate glass beadmaking process, in which you use a palette of reactive, transparent and crayon colours! Watch Maria develop sculptural shapes not possible in soft glass, and learn to manipulate this harder glass in a hotter flame.
Maria Keating has been flameworking for over a decade, compiling techniques learned from diverse local glass artists.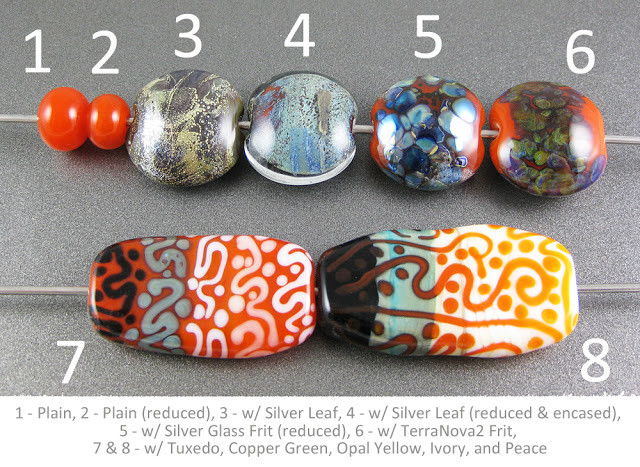 SATURDAY Sept. 16, 7:30-9:00 pm
Glass Tech Talk with Melanie Graham
If you've ever wondered why a soft glass colour behaves the way it does, this is the workshop for you. Melanie will demystify colour combinations, striking and reducing effects to help you get the look you want.
Melanie has been obsessed with glass and colour since she took her first glass beadmaking class in 2005. Her current artistic focus is on exploring glass reactions, glass-on-glass painting, and exploiting heat and gravity to create dramatic shapes. She is a member of Terminal City Glass Co-op.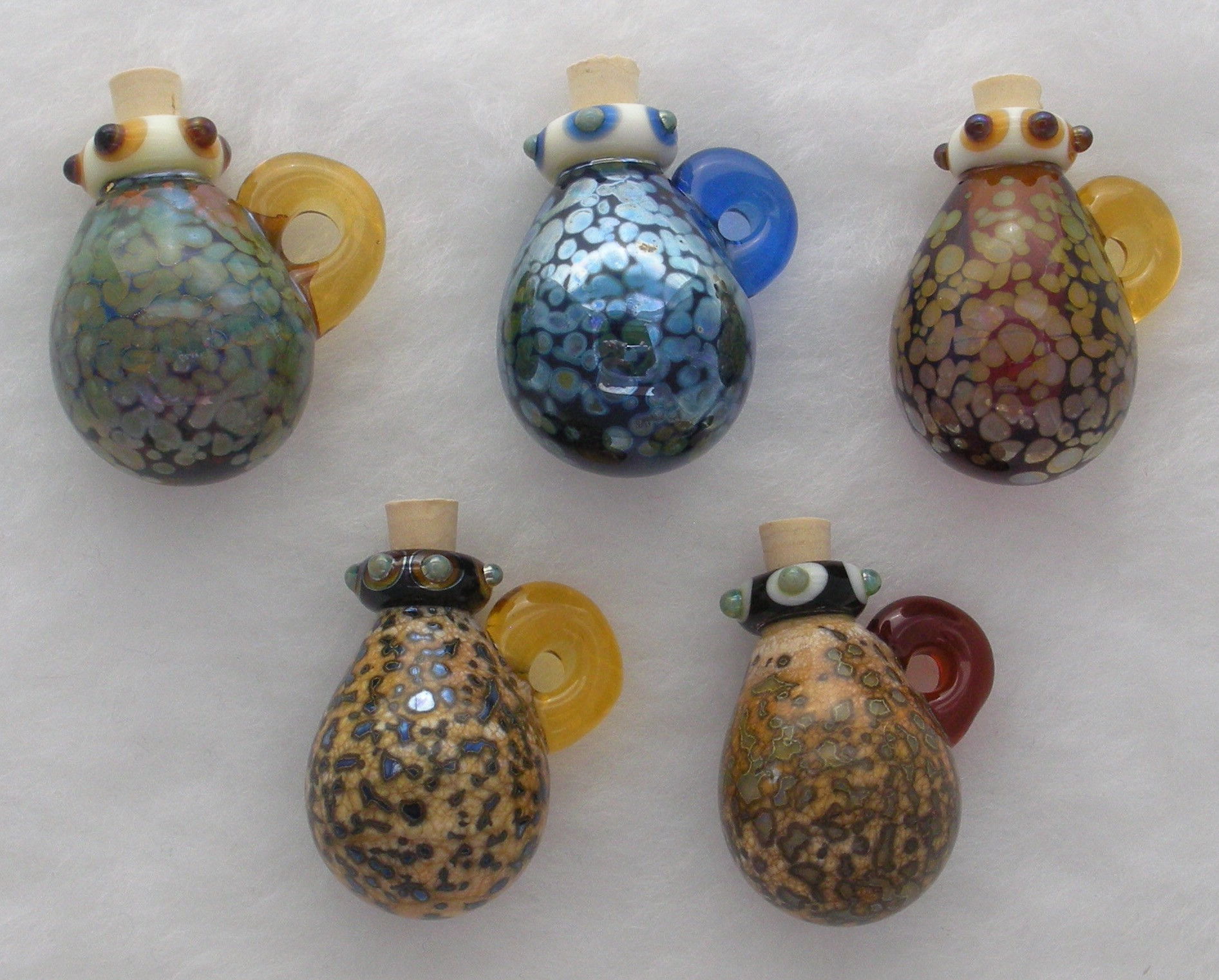 SATURDAY Sept. 16, 7:30-9:00 pm
Perfume Bottle Pendants with Alexx Cheng
Alexx will demonstrate making perfume/aromatherapy bottles using soft glass.
Alexx Cheng is a Canadian beadmaker living in Chiang Mai, Thailand. He operates a large scale flame work glass bead production plant, designing and producing beads for Pandora Jewelry for the past 10 years.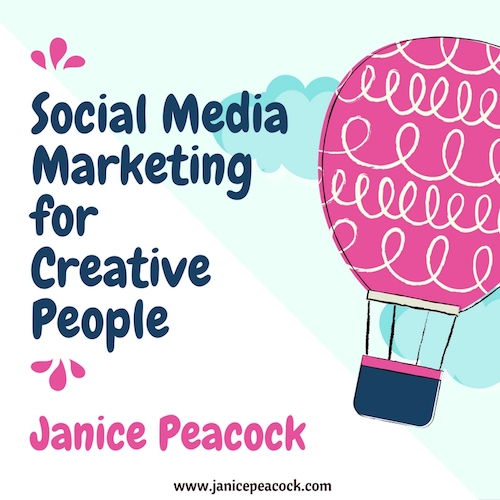 SATURDAY, Sept. 16, 7:30 - 9:00 pm
Social Media with Janice Peacock
After publishing her first novel in 2014, Janice has spent much of the last two years learning all she could about social media marketing, one of the best ways for authors - and any creative person - to promote themselves.
Janice Peacock has been making glass beads and creating one-of-kind jewelry for over 20 years. Her work has been exhibited internationally and is in the permanent collections of the Corning Museum of Glass and the Museum of  Glass in Tacoma WA. She is also the author of three books in the Glass Bead Mystery Series.