Make an Ornament
Saturday, December 2, 2023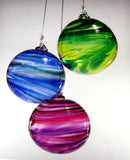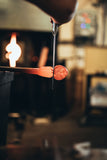 Description
SOLD OUT!

 
Saturday, December 2, 2023
9:40 AM - 4:40 PM - 40 minute slots
$120 + GST  ($126 inc GST) per person / 1 ornament 

Kick off the Holiday season with our fun and festive glassblowing experience!

Work one-on-one with our experienced glass artists to make your own delightful ornament! You'll choose your own colour, gather molten glass from our furnace, and shape it into a sphere.  Hang it on a tree, or in a window to catch the light. It's your treasure to keep or give as a gift.
Participants must be age 16 or over. No experience required.

Please choose your time slot below. 4 spaces are available per time slot. If a time slot is missing, it's already full. If you can't book two spaces in one time slot, someone has taken the other space. 
 Finished pieces are ready for pick-up the following week.